Information for Leaders
Welcome! We'd like to partner with you to help your families pray well at home during these extraordinary times. Read on for why we think this is such a great pastoral opportunity, and how it works. We also NEED YOUR HELP, so please read "What Do You Need From Us?" below.
What Is Worship@Home?
Worship@Home is an online resource to help families with children pray together at home while we are unable to gather for Sunday Mass. It is based on and inspired by Sunday Celebrations in the Absence of a Priest: Leader's Guide (promulgated by the U.S. Bishops) and the Directory for Masses with Children (from the Congregation for Divine Worship).
It gently coaches parents and their families through the age-appropriate prayer experience, and even makes it a little fun.
It is a HUGE opportunity to help families own their faith.
Wait, You Say This Is a Huge Opportunity?
It sure is! Think about it for a minute.
We're always talking about how parents are the first teachers of their children in faith, and then we lament that they don't act like it. Many have essentially delegated their job to catechists (and we let them do this). The result is that the faith is not "sticking," and younger generations are leaving the church. Study after study tells us that what makes the difference is the role parents play.
So here's the opportunity:
Many families are cooped up in their homes, without much to do. They are bored. In some, kids are bouncing off the walls.
Most cannot attend public Mass or any other church services or events.
Families are anxious, confused, and worried. Most of us have an even greater need for prayer at this time.
It's Lent, for heaven's sake!
Many parents are not comfortable leading their families in prayer. They have not been equipped or coached well to do so.
The best way to learn how to do something is to DO it (with a little coaching support).
What if the Holy Spirit could somehow use this mess we're in to teach families how to pray together and build up the domestic church?
But Shouldn't Families Watch Mass Online or On Television?
Here is what the Catechism of the Catholic Church, quoting canon law, states:
If because of lack of a sacred minister or for other grave cause participation in the celebration of the Eucharist is impossible, it is specially recommended that the faithful take part in the Liturgy of the Word if it is celebrated in the parish church or in another sacred place according to the prescriptions of the diocesan bishop, or engage in prayer for an appropriate amount of time personally or in a family or, as occasion offers, in groups of families."
Catechism of the Catholic Church, #2183
We are certainly within "grave cause" territory, and the social distancing demands to keep our communities safe keep us from gathering in a church, other sacred space (with the exception a home), or as groups of families. "Participation in the celebration of the Eucharist" clearly refers to in-person presence (when that is possible). In-person worship is the priority, whether it is Mass or not.
There is nothing wrong with people watching Mass remotely, and it is wonderful that the gift of technology makes this available. Some who are homebound watch Mass in this way regularly. At this time (if your parish has the technical capabilities to live stream), this is a way for a parish to remain connected and in solidarity and to hear a common message. It's a particularly good option for an individual living alone.
(Note: If your parish is choosing to livestream or tape-delay Mass, you should take a close look at the detailed guidelines set forth by the U.S. Bishops .)
And yet...
And yet, it is not an ideal option for everyone. Here's why:
I'm not sure how possible it is to actively and consciously participate remotely, through a one-way broadcast to a screen. It's not true dialogue, as hard as we might try to make it work. Is it still the "work of the people" when we do it this way?
We are a sacramental people who experience the faith through the physical world and our senses. We believe the Body of Christ is physically present in the gathered community, just as Christ is present in the presider, the Word, and the Eucharist. A picture of the Holy Eucharist is not the same as being in the presence of the Holy Eucharist. Something huge is missing when we can't gather physically, and I think people feel the difference.
Some do not have the technical capabilities to participate in this way.
It is PARTICULARLY a challenging experience for families.
Why Is Watching Mass On a Screen a Problem for Families?
First of all, think about this from a child's perspective. Mass on a little screen? Not very exciting! Parents have a hard enough time keeping kids engaged when physically present. And many kids are used to a more engaging Children's Liturgy of the Word experience each week.
Beyond this, I have had many, many conversations with pastoral leaders about how hard it is to "get" families to attend Mass (in-person). Some complain that even those who have their children in sacramental preparation don't come.
Those of us who are particularly faithful and committed may be willing to muddle through and "attend" Mass in this way, but I have doubts that others will. They'll just skip it and not pray at all.
The Catholics who are on the margins are the ones we need to love and reach out to the most! We need to engage them and help them discover the spark of their faith. This is exactly the time when we need to bring them CLOSER to the church.
But Isn't Online Mass Still Technically Preferred Over Another Service?
This is not the case. (Please see the quotation from the Catechism of the Catholic Church and canon law above.)
Think about it this way. There are many parishes around the world who don't have a priest available on Sunday. We don't have them live stream another parish's liturgy. We have them pray together in another form. And we have a whole ritual book specifically to support this case.
Now, these are extraordinary times, to say the least. This is not an ideal situation. But what's the best way to deal with it?
We teach that each family is a domestic church, like a parish in miniature. Parents have a right and obligation to lead their families in prayer, and this is one of the best opportunities ever to encourage that. Let's not take that away from them!
Especially in these trying times, don't we want families ACTIVELY praying together, speaking their own intentions, etc.?
Will Parents Really Lead Their Own Service?
Some won't. But we think many will!
We're pretty convinced that more families would pray at home than tune in remotely, as long as we give them GOOD tools to do so.
Aren't There Other Resources That Would Work?
Sure, there are some great resources that do various aspects of this, but we're not aware of anything else that puts them together.
It needs to be an ONLINE resource. A book in your office is fairly useless, as you need to get it in the hands of all your families, who aren't coming to your parish in the first place.
It should be a PRAYER resource. It's great to have families reflect on the readings, and that's better than nothing. But praying together is completely different. That is key.
It needs to COACH parents. Most families do not know how to do this, and are going to be intimidated. We need to make it as easy as possible for them to follow along and encourage them.
It needs to be AGE-APPROPRIATE. A resource for adults is simply not going to be very engaging to children. That's why we have a Directory for Masses with Children.
Worship@Home addresses all of the above.
Okay, Okay, How Much Does Worship@Home Cost?
Gosh, we're really glad you asked. It is FREE resource, but we do ask parishes and/or dioceses to consider making a free will offering in support of our ministry. Learn more below under "What Do You Need From Us?" to see how you can help.
Then How Do I Share This with My People?
It's easy, actually.
Once you have registered for a free license (did we mention that yet?), you just email your people, point them to http://worship.pastoral.center , and give them a little pep talk. You can also post a link on your parish website. The best time to email is probably on Saturday, so it will be fresh in their minds.
Post this banner on social media or on your parish website, or make your own: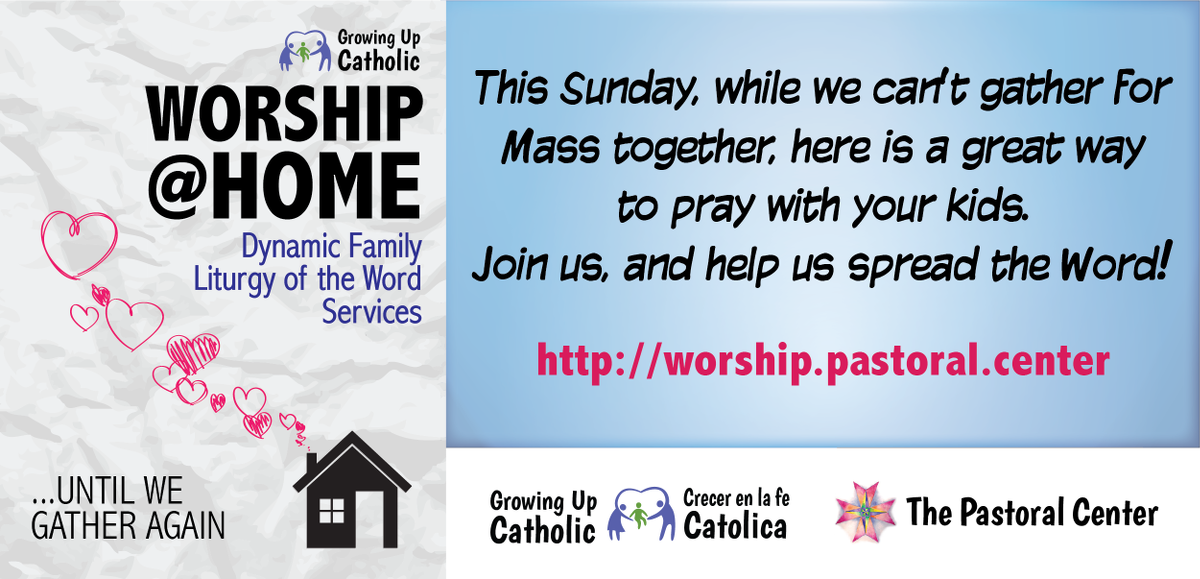 You're also welcome to embed the introduction video on your website or otherwise share it.
Are The Services Available in Spanish?
Unfortunately, they are currently only available in English. We would love to offer them in Spanish, too, but we would need some help in translating and adapting. Please contact us if you may be able to contribute to this effort.
When Are the Services Posted?
We do our best to post the next Sunday's service by the previous Thursday night.
How Long Will You Continue to Post Services?
We initially only intended that this site would exist for a month or two, but the pandemic and shutdowns have exceeded everyone's expectations.
We continue to write and post services week-by-week as we go along. With the uncertainty of social distancing, we have not made any commitment regarding how long we will continue to post them. It is quite a bit of work, and while we have been grateful for the free will offerings made by some dioceses, parishes, and families, it's still a challenge for us to maintain (donations make it more viable).
At some point we will need to discontinue this service. We've already seen a significant decline in viewers as parishes begin to reopen, although hundreds of families are still using Worship@Home weekly. We will notify all who have registered (see below) in advance before that happens.
What Do You Need From Us?
Parish & School Leaders
Diocesan leaders, please scroll down!
Thank you for visiting our site, and for considering how you can minister well to your families during this unsettling time. We are offering this online resource for free, but we have some requests. We ask you to please follow these steps:
Spend some time reviewing this site and understanding what you can share with your families. Just click on the buttons for the different days at the top of the page.
Please register for free. Simply follow this link, add the product to your cart, and checkout. You will have the opportunity to make a free will offering. We ask that you prayerfully consider the value of this resource to your community at that time. There is no obligation to donate, but any amount helps support our ministry.
Get the word out to your people. Send them to the top of this website: http://holyweek.pastoral.center. Persuading your families with a personal note can make a big difference. The best ways to get the word out are through email or social media like Facebook. It's a great idea to post on your parish website, but don't assume many people will be looking there. Consider even mailing out postcards or letters through the postal mail. We encourage you to freely use the banner image further below on this page.
Help us spread the word to other leaders. Tell those you work with, your diocesan leaders, and those you know from other parishes or skills. We don't have much time before Holy Week begins, and we want to welcome as many families into this experience as we can!
Thank you for letting us serve you from our Pastoral Center online through our Growing Up Catholic ministry. It's an honor to work with pastoral ministers like you!
— Paul, Ann, and the Pastoral Center team
Diocesan Leaders
Thank you for your interest! We are making these resources freely available, but our request is that each parish/school that wishes to share them with their people register for a free license. You CAN post a link to HolyWeek@Home on your diocesan site, but we'd like your help to encourage your parish/school leaders to register and share themselves.
We ask that you follow these steps:
Review all of our free coronavirus tools at http://pastoral.center/coronavirus. We especially encourage you to point your leaders to Sending Faith Home: A Guide for Pastoral Leaders amidst the Coronavirus Shutdown.
Please register for free if you wish to share this or other resources on your diocesan website, through your social media account, or by email. Simply follow this link, click on the product pages of interest, add them to your cart, and checkout. When adding a couple of the resources to your cart, you have the opportunity to make a free will offering. There is no obligation to donate, but any amount helps us sustain our ministry.
Get the word out to your people. For this resource, be sure to send them to the top of this website: http://worship.pastoral.center. We encourage you to use the banner image on this page. Then, if possible, add a second link below it that encourages PARISH/SCHOOL leaders to register for licenses at http://pastoral.center/coronavirus so they can post directly to their own website.
We're sorry for the extra step, but this allows us to be in touch with leaders about updates to the pages, next steps after Holy Week, and hopefully a continued commitment to coaching parents to share their faith and build up the domestic church (which is what we're about ALL the time).
Thank you for partnering with the online Pastoral Center and our Growing Up Catholic ministry to equip your leaders. It's an honor to work with pastoral ministers like you!
— Paul, Ann, and the Pastoral Center team
More Coronavirus Tools
Have you seen our other free resources for ministering amidst coronavirus? If not you're missing out!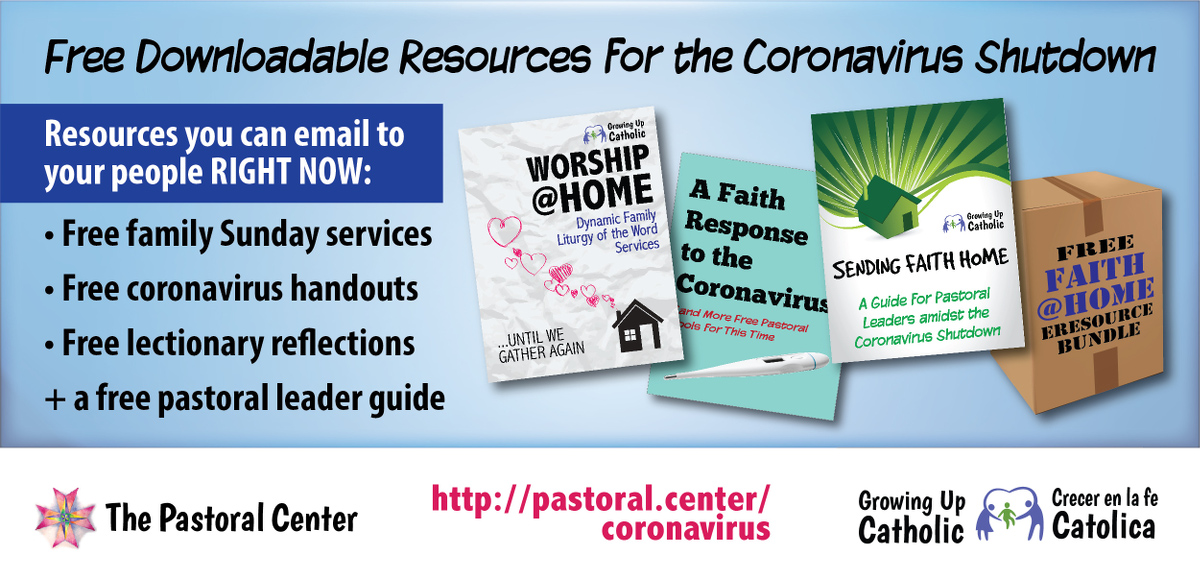 Contact
The Pastoral Center is a family-owned and run ministry serving Catholic pastoral leaders, and our full-time job (pictured: Paul, Madeleine, Ann, and Rachel).
1-844-727-8672 (M-F 9AM-5PM CT) • resources@pastoralcenter.com • http://pastoral.center